Ragefire-Empire | 317 Economy
.:: A message to New Players ::.

It's advised for your own gaming experience, that you give Ragefire-Empire a try.

.:: Does Ragefire-Empire have enough content ::.

Ragefire-Empire has a list of features that only grows. Some features to note: Custom weapons that have never been seen before in Runescape history, 30+ bosses ranging from normal Runescape bosses to custom bosses, a prestige game-mode which offers beneficial rewards & leaderboards for friendly competition, the all new rage gamemode which provides players with an ability to deal larger amounts of damage when battling monsters, membership bonds & exp upgrades are available for in-game gold, A new server event occurs EVERY 24 hours, Several Minigames to play with reward shops, 100+ achievements with a point system to exchange for rewards, Buying & selling items are made convenient with the implementation of Player owned shops, Earn points simply from skilling and exchange for items such as death touch darts, a drygore mace, and many other options.

.:: Will I be happy to be apart of the Ragefire-Empire Community ::.

You will be ABSOLUTELY pleased. The staff members are helpful and understanding. Rules are strictly enforced to ensure a positive environment. The Ragefire-Empire Management & Development Team dedicate their time to maintaining the community and providing the players with consistent updates. You will not regret joining Ragefire-Empire!


CLICK HERE TO JOIN NOW!


.:: Media ::.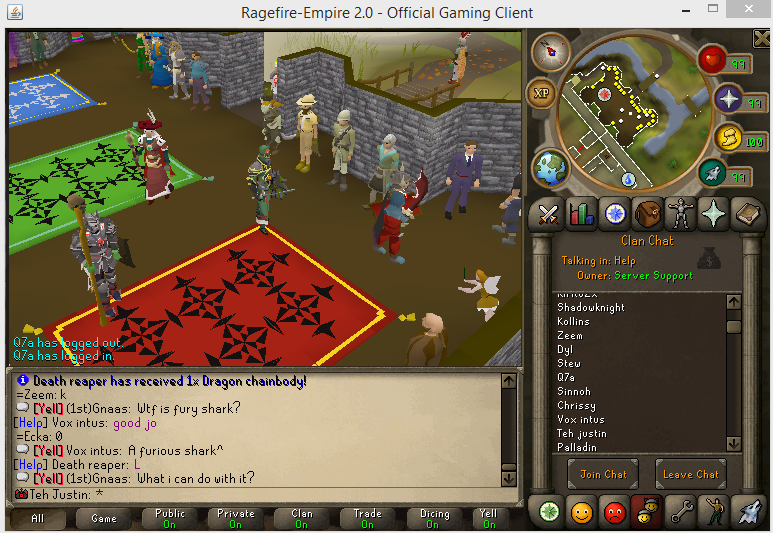 CLICK HERE TO JOIN NOW!